This piece was originally published in my newsletter Emergent.
---
Fintech has proved to be one of the most fertile categories for entrepreneurs to innovate in globally over the past decade. Finance is the engine that powers an economy both at an individual level – bank accounts, mortgages and credit – and at a business level – payment processing, loans, point-of-sales systems. Fintech's tremendous popularity as a category for entrepreneurs has been driven by the huge unbanked populations across countries globally, the dominance of cash as a method of transacting worldwide and the limited access most people – even those with bank accounts – have to financial services.
In particular, the continent of Africa has been simultaneously a laggard in financial inclusion and a global pioneer in specific categories of fintech, particularly mobile payments where Kenya's MPesa has become the best in-class mobile money product globally. In fact over half of the world's mobile money products are based in Africa.
One of the most exciting fintech startups globally today is the Nigerian mobile money startup OPay. Uniquely Opay was incubated and initially funded by the Norwegian internet browsing company Opera, one of the most unique origin stories for a startup anywhere in the world. Opay was founded in 2018 and has achieved an incredible amount in under 3 years:
$38 million in revenue in 2020 (ended 2020 with an annualized revenue run rate of nearly $70 million)
Raised $570 million in funding
Valued at $2 billion
Built a network of 300,000 offline agents to serve as real-world bridges to its financial products
Serving nearly 10 million Nigerians today
Processing about 1/5 of point-of-sale (POS) payments in Nigeria today
OPay's incredible scale is not unique for mobile money startups globally or even in Nigeria. However, the company's recent $400 million round of funding gives it a huge warchest of capital to fuel its expansion in Nigeria and across the continent.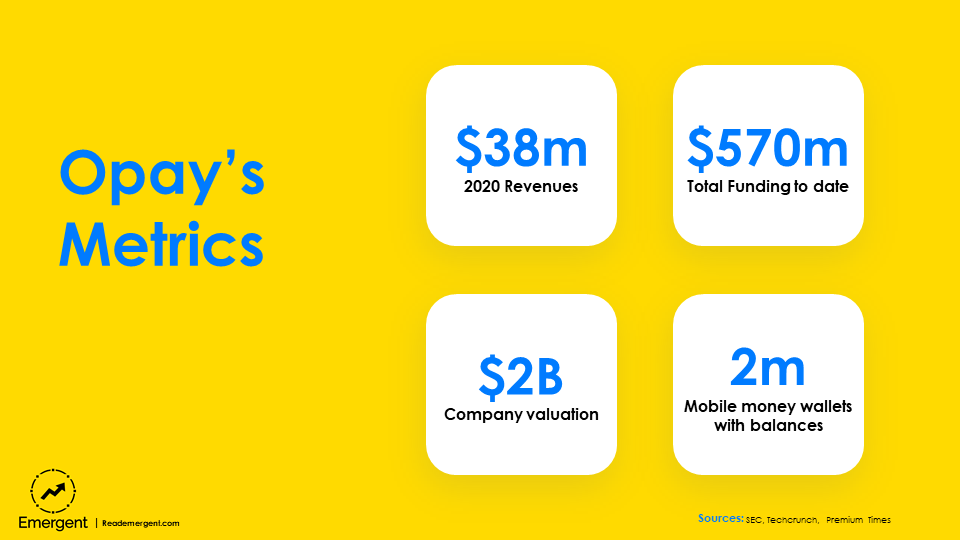 Product
Opay started by launching its mobile money platform in Lagos (Nigeria's largest city) in 2018. From there Opay quickly expanded its suite of services with the vision of becoming a SuperApp for Nigeria, similar to the vision Grab, Meituan and to a lesser extent JumiaPay have achieved. OPay launched ORide (a now-defunct bike-hailing service), OBus, a bus-booking platform (also defunct) OExpress (a logistics delivery service) OTrade (a B2B e-commerce platform) and OFood (a food delivery service).
However, the only product to truly breakout for OPay has been its mobile money product and it has shut down numerous other business lines to focus on this product. Today, Opay has three core product offerings:
Opay Payments: A mobile application for peer-to-peer (P2P) transactions as well as making digital payments for goods and services
Opay Mechant Tools: A free point-of-sale system for merchants and other tools to allow them to instantly process and settle transactions as well as sell digital services (such as mobile data)
Opay Cards: The company recently launched debit cards as an extension of its platform.
Market
Africa is the next major frontier for the global economy and will see its population more than double from 1 billion today to 2.5 billion by 2050. GSMA estimates that sub-Saharan Africa has nearly 550 million mobile money accounts today with 160 million of these accounts being active on a regular basis. Significant opportunity remains to onboard new users as well as to increase engagement from existing users. Africa's largest country economically and by population is Nigeria. The country's burgeoning population (200 million) and large GDP ($450 billion) has attracted entrepreneurs and investors from around the world. Nigeria – like most emerging markets – is a very young country with a huge 44% of Nigeria's population under the age of 14.
Nigeria's economy has begun digitizing rapidly over the past few years. The COVID-19 pandemic has only accelerated this wave of digitization. This acceleration has been particularly pronounced in the world of payments. Nigeria's mobile payments volume soared by 260% from 830 billion Naira in 2019 to over 3 trillion naira in 2020. As of June of 2021 Nigeria's mobile payments volume has nearly surpassed the total volume for 2020.
This rapid growth in digital payments has decades of growth ahead of it. According to data from the Nigeria Inter-Bank Settlement System (NIBSS) as of August 2021 the number of adults in Nigeria with a bank verification number (BVN) was 49 million, out of a total population of 100 million adults. This implies that nearly 50% of Nigeria's adult population is unbanked and lacks access to financial services in a significant way. If Nigeria's unbanked adult population was its own country it would be the 29th largest country in the world.
Competition
Nigeria's large population and economy has inspired numerous entrepreneurs over the years. The country is undergoing a multi-year fintech boom across mobile payments, digital banking and financial infrastructure. OPay has achieved significant scale in mobile payments volume in Nigeria, but it isn't the only startup to do so. OPay's main competitors in Nigeria today are:
Growth Opportunities
OPay's rapid growth in Nigeria provides it a very strong foundation in the years to come to further expand its business. Each of the mobile money startups in Nigeria have employed slightly different product and go-to-market strategies as they have scaled. As OPay looks to the future it has possible strategies to pursue for growth including:
Geographic expansion
Adding buy-now-pay-later and other consumer credit options
Evolving into a full-scale digital bank
To date OPay has focused on Nigeria – Africa's biggest prize. Despite this, over 800 million people live on the African continent outside Nigeria. Flutterwave has aggressively expanded outside of Nigeria and operates in 11 core markets today and is available in some form or another in 30 countries on the continent. OPay will likely follow in Flutterwave's footsteps and use its recent $400 million round of financing to expand into other major markets in Africa. In fact, earlier this year OPay launched in Egypt, Africa's second-largest economy with a population of 100 million. In addition to Flutterwave, OPay faces major competition in Egypt from Fawry, an Egyptian mobile money and payments company that recently went public and has a market capitalization of around $1.8 billion.
Aside from geographic expansion, OPay can broaden its product suite by adding buy-now-pay-later (BNPL) functionality and other consumer credit options. In emerging markets worldwide the availability of credit and penetration of credit cards is very low compared to the West. This lack of credit availability hamstrings both consumers and businesses. The BNPL business model has shown a lot of promise globally pioneered by companies such as Klarna, Affirm and Afterpay in the West as well as Kredivo (Indonesia) and ZestMoney (India) in emerging markets. Credit card penetration was as low as 1.5% in Africa as recently as 2018. The opportunity for BNPL and to provide credit in Africa is massive and mobile payments and wallets are critical enablers as a step towards this.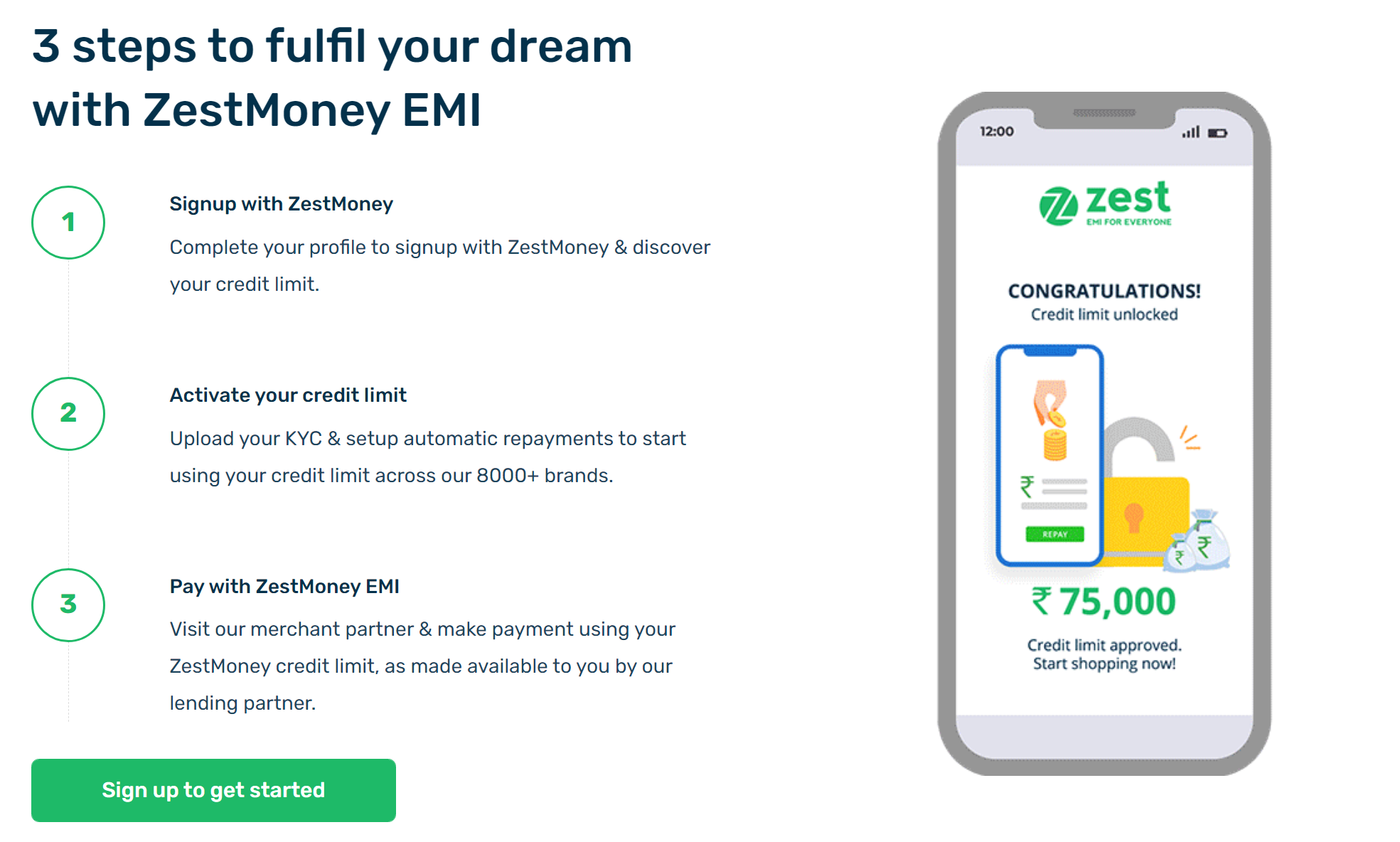 Finally, if OPay pursues strategy one and two to grow then strategy three – becoming a full scale digital bank – becomes the logical evolution of the company's product suite and business model. Opay's broad user base will enable it to quickly evolve into a full-scale digital bank if it so chooses and mirror the tremendous success that NuBank has achieved in Brazil. Nigeria already has one major digital banking startup Kuda Bank which recently raised $55 million in financing at a valuation of $500 million. Kuda claims to have 1.4 million users today, compared to the nearly 2 million mobile money wallets with balances OPay claims to have and the 10 million Nigerians it claims to serve directly or indirectly. However, Nigeria's financial regulators recently launched an aggressive crackdown on fintech companies in the country, introducing a raft of new regulations and restrictions. This is a major potential roadblock in any aspirations OPay may have to become a digital bank in Nigeria.
OPay's rapid growth in payment volume in Nigeria and recent $400 million of financing position it well for aggressive growth in the years to come, both within Nigeria as well as to new markets the company expands to. As the drumbeat of financial inclusion continues to grow across Africa, mobile money products like OPay are key for onboarding the unbanked into the financial system and towards more complex financial products such as credit cards, home loans, student loans – things that OPay could offer over time. Time will tell whether OPay stays focused on mobile payments purely or evolves into a full-scale digital bank, or something in between. Either approach will see OPay continue to grow rapidly and capitalize on its early momentum in Nigeria.
This piece was originally published in my newsletter Emergent.
---